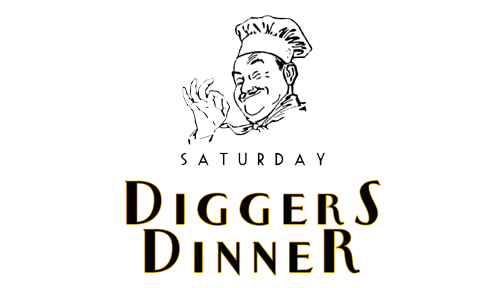 Digger's Dinner Famous or Infamous Recipes
Visits to Camp Leakey have been suspended until further notice,
but you can still enjoy these recipes and more at future off-site reunion events!
Select any title on the buttons below to have the accordion open with recipe.
Friends of Calico Dinner Recipes

We are building a list of great Calico historical food and drink recipes.

Just click one of the titled tabs below to view a recipe... enjoy! Better yet, come out to taste for yourself.

Mark Adelson's CMAS Scalloped Potatoes

4 medium potatoes
1 medium onion
Salt
Pepper
Dried parsley Flour
Milk (whole or 2% probably gives best result)
Butter

Preheat oven to 375 0

• Cut potatoes into slices less than ¼ inch thick
• Cut onion into the thinnest slices you can.
• In the bottom of a baking dish place a layer of overlapping potato slices. Season layered potatoes lightly with salt, pepper and parsley, and top with a little of the sliced onion and 2 or 3 thin pats of butter. Generously dust the layer with flour. (More flour will result in a creamier dish.)
• Add additional layers of potato slices, seasonings, sliced onion, butter, and flour until all the potatoes are used.
• Add milk to the baking dish until 2/3 of potato layers are covered. Bake covered for an hour. Expect baking dish to bubble over.
(Could probably also be made in an electric skillet, dutch oven, etc.)

Barbara Stanculescu's Chicken-in-a-Pot

From Barb's German Grandmother's Cookbook
1 chicken
Leek
Celery
1 onion
carrots

• You wash the chicken and put it into boiling water. Slowly add salt, sliced carrots, celery, onion and leek, whatever takes longest comes in first.
Let the chicken simmer for about 3 hours. Then debone it.

• Prepare a light sauce. Let 40grams (?) butter melt, add corn starch or flour. When the mixture starts making little bubbles, add the soup and let it cook for maximum 10 minutes, longer it will lose much of its taste.
You can also add a couple drops of lemon juice and white wine.

• Cook the rice according to the instructions. You can also add to the rice water for better taste some of the soup or a broth cube. Before serving add the chicken meat to the sauce. If the meat cooks in the sauce it will fall apart.

Capers can be used to accent the chicken

If the recipe is not clear, feel free to ask.

Dan Eliseuson's O-Hanna-Sans Mushroom Chili

Chili will serve 20 meals:
Hamburger -6 lbs
Fresh tomatoes
Fresh mushrooms- 4 LM
Fresh onions- 3 each
Red kidney beans- 5 cans
Tomato sauce
Tomato soup- 5 cans
Mushroom- 3 sm cans
Chili powder
Worchestshire sauce
Beef broth
Salt
Black pepper

• Mix spices with hamburger and lightly brown in skillet.
• Cut onions, mushrooms and tomatoes into hearty chunks.
• Add all kidney beans to 5-6 quart pot.
• Add rest of ingredients afetr beans have warmed
• Cook on stovetop for 1 1/2 - 2 hours.

Addons: French rolls - 20, Salad - 20, Desert -20, Red French dressing 1 bottle

Claude Short's Jammin' Jambalaya

1 pound skinless, boneless chicken breast halves - cut into 1 inch cubes
1 pound andouille sausage, sliced
1 (28 ounce) can diced tomatoes with juice
1 large onion, chopped
1 large green bell pepper, chopped
1 cup chopped celery
1 cup chicken broth
2 teaspoons dried oregano
2 teaspoons dried parsley
2 teaspoons Cajun seasoning
1 teaspoon cayenne pepper
1/2 teaspoon dried thyme
1 pound frozen cooked shrimp without tails




• In a slow cooker, mix the chicken, sausage, tomatoes with juice, onion, green bell pepper, celery, and broth. Season with oregano, parsley, Cajun seasoning, cayenne pepper, and thyme.

• Cover, and cook 7 to 8 hours on Low, or 3 to 4 hours on High. Stir in the shrimp during the last 30 minutes of cook time.

Serve over cooked rice.

Dan Eliseuson's Mckenzie River Moose Ribs

Cut ribs into 5" sections
Salt
Pepper
Garlic powder
Wrights condensed liquid smoke
BBQ sauce

Dan Eliseuson's Broken Neck Charlie BBQ Sauce

Butter (2 tbl spoon)
Ketchup ( one cup)
Water (3/4 cup)
Brown sugar (2 tbl)
Lemon juice (2 tbl)
Vinegar (one tsp)
Dry mustard (one tsp)
Salt, pepper, onion flakes

Mix all, heat & baste (yield 2 cups).

Bob's Taco Bell Soft Taco 2.0

1 pound lean ground beef
1/4 cup all-purpose flour
1 tablespoon chili powder
1 teaspoon salt
1/2 teaspoon dried minced onion
1/2 teaspoon paprika
1/4 teaspoon onion powder
dash garlic powder
1/2 cup water
12 soft taco flour tortillas (6-inch tortillas)
2 cups shredded lettuce
1 cup shredded cheddar cheese

• In a medium bowl, combine the ground beef with the flour, chili powder, salt, minced onion, paprika, onion powder, and garlic powder. Use your hands to thoroughly mix the ingredients into the ground beef.

• Add the seasoned beef mixture to the water in a skillet over medium heat. Mix well with a wooden spoon or spatula, and break up the meat as it cooks. Heat for 5 to 6 minutes, or until browned. The finished product should be very smooth, somewhat pasty, with no large chunks of beef remaining.

• Heat up the flour tortillas in your microwave for 20 - 30 seconds, or until warm.

• Build each taco by spooning 2 to 3 tablespoons of the meat into a warm tortilla. Spread some of the shredded lettuce over the meat and then sprinkle some cheese over the top. Repeat with the remaining ingredients and serve immediately.

Makes 12 soft tacos.

Dan Eliseuson's Thundernut

Coco nuts - 1 per person:
Fresh pineapple
Rum (151)
Vodka
Yukon Jack "Special"
Pineapple juice
Malibu coconut mix

• Every thing on ice
• Drain coconut milk, place in refer
• Crush pineapples, place in refer
• Blend and taste
• Serve with straw

Rules: Thundernut must be hand held at all times.

Dan Eliseuson's Calico Diggers Koolaid (Leakey Limey-ade)

1 cp sugar
3/4 water
1 cp frozen sour cherries
16 oz London dry gin
1/2 cp lemon juice - 4 lemons
1 bottle chilled dry rose wine - 750 ml
Ice
Lemon slices garnish

• Boil water and sugar dissolve sugar cool.
• Combine syrup cherries gin 3qt pitcher refer cold 2hrs stir in lemon juice and wine serve over ice.
.
Dr. Louis Leakey's CEMS Dessert

Note: Dessert refers to leaving the table.


---


2 ounces brandy
4 ounces milk
Garnish: ground nutmeg
Optional: 1/2 teaspoon vanilla extract
Optional: 1 egg
Prep
• Pour the brandy, simple syrup, milk, and optional vanilla extract and egg into a cocktail shaker filled with ice
• You can vary the milk that you use in the brandy milk punch. You can make it creamier by using half-and-half or even heavy cream. Often you will see recipes that call for 2 ounces of milk and 2 ounces of half-and-half or heavy cream for a single serving. For a lighter choice, use nonfat or 1 percent milk.

Bob's Hot Horseradish Sauce

Sinus clearing mixture
6 oz grated horseradish
2 oz confectioners' sugar
Pinch of sea salt
4 oz fresh breadcrumbs
1 1/2 cups light cream
1 tsp cider vinegar
Prep
• Combine horseradish, sugar, and salt. Stir in breadcrumbs. Pour in cream and mix well until combined. Refrigerate until cold. Just before serving mix in vinegar.

• Serve cold with roast beef, BBQd meats or use as dip... keep a cold beverage near by.

Bruce Hamilton's Lemon Chicken

Bob El Pollo Poquito:
1 chicken-cut pieces w/skin
1/3 cup lemon juice
1/3 cup lime juice
1/3 cup Canola or vegetable oil
1 tsp Ground turmeric
1/2 tsp Garlic salt
1/4 tsp Black ground pepper
Prep
• Briiefly simmer the cut-up chicken in a deep-sided skillet, keeping pieces in single layer without crowding them, until meat appears milky whiteand the juices run clear, no longer pink.
• Allow to cool in the broth, uncovered while you prepare the basting sauce. Arrange the chicken pieces skin-side up on broiler pan or grill. Baste with enough of mixture to evenly coat skin side. Turn and baste the other side. Turn again to skin side and allow to cook until skin gets crispy.
• Basting mix- mix juices, oil turmeric, salt and pepper. This makes enough to baste nine pieces of chicken.

Bruce Hamilton's Corned Beef

Bob's Crocked Corned beef and cabbage:
2 medium onions, sliced
2-1/2 pounds corned beef brisket
1 cup apple juice
1/4 cup packed brown sugar
2 tsp grated ornage peel
2 tsp prepared yellow mustard
6 whole cloves
1 head green cabbage
Prep

• Arrange sliced onions evenly over the bottom of the pot. Place corned beef on top of the onions.
• Arrange cabbage wedges evenly over the top of the meat.
• Mix apple juice, brown sugar, grated ornage peel, mustard and cloves. Pour evenly over corned beef brisket and onions.
• Cover crock and cook on low for 10-12 hours on low or 5-6 hours on high.
• Yield: 6 servings.


Barbara Stanculescu's CMAS Banana Bread

Banana Bread Via Janice Crocker

Recipe may be doubled.

⅔ cup brown sugar
1 teaspoon lemon juice (lime juice OK)
6 T( ¾ stick) butter at room temperature
1 ¼ cups mashed ripe banana (3 small)
2 large eggs (extra large is OK)
1 cup chocolate chips
1 ¼ cup all purpose flour
¼ cup ground flax meal
1 teaspoon baking soda
¾ teaspoon baking powder
¼ teaspoon salt

• Adjust oven rack to center position. Butter and flour a 6-cup ring mold or bread pan. If using a bread pan, use parchment paper. ( Clean-up becomes easy!) Preheat oven to 350 F, or for convection 345.
• Using food processor with metal blade, process sugar, lemon juice and butter, 30 seconds until well mixed. Scrape down sides with spatula. Add banana and process until mixed, about 30 seconds. Add eggs, process about 15 seconds. Add chocolate chips. Pulse on and off, a few times.
• In separate bowl, stir together the dry ingredients. Add the dry ingredients to the work bowl of the processor. Pulse on and off only until flour disappears.
• Transfer batter to prepared pan and bake in pre-heated oven. Convection oven will take about 35 minutes in loaf pan, less for mold. Start testing with toothpick or cake tester; it should come out clean when inserted into the center. Non-convection will take about 45 minutes for mold, 55 for loaf pan. Do not over bake!

Rangoon and Bruce's Smokin' Frog BBQ Sauce

Authenic Hamilton/Yermonian Luau BBQ Sauce

Recipe may be doubled.

! - Cup orange juice….. 8oz
1 - Cup pineapple juice…. 8oz
1/2 - Cup mesquite liquid smoke (Stubbs)…. 4oz
1 - Tbs oregano
1 - Tbs minced garlic
1 - tsp cumin
3 - tsp sea salt
1/2 - Cup coconut juice w/bits of coconut…. 4oz
1 - Cup rum….. 8oz

Boil mixture add corn starch to thicken… stir and let cool… put in jar…

(no actual frogs were used in the production, United Amphibians certified)

Bob's Calico Barbeque Ribs

! - Rack of Pork Ribs
A good rib rub, try Bob's
A good BBQ sauce, see above
1/2 cup apple juice
Aluminum foil
Charcoal
Meat thermometer
2 disposable aluminum pans (half size of grill)
A large knife
Prep
• This method can be used with spareribs or baby back ribs. Spareribs are meatier and will take about 4 to 5 hours depending on your grill. Baby back ribs will take between 3 to 4 hours to cook.
• Simply taking the ribs out of the package and throwing them on the grill won't produce a lot of flavor, especially if the rib membrane is left on. Now some people say that if you are grilling the ribs you don't need to remove the membrane. To be honest, we don't agree. The membrane (the thin skin on the bone side of the rack) is a tough barrier that needs to go. By removing the membrane, your ribs will be more tender and you will be able to get more flavor into the meat.
• To remove the membrane from the rack take a blunt knife (like a butter or table knife) and slip it under the membrane along the end bone. Move the knife around a little to loosen the membrane so you can get a good grip on it. The membrane is a slippery skin, so grab it with a paper towel and you shouldn't have any trouble lifting it right off. With a little practice, you will be doing this so quick and easily that you won't think twice about it.
• With the membrane off, inspect the rack and remove any loose meat. This will only dry out on the grill so you don't want it on there. What you want is a good, clean rack of ribs that is square and even. If you are using spareribs you might need to do a little more trimming.
• A good rack of ribs deserves a good rub. Applying a spice mixture to the surface of the ribs is going to put a lot of flavor into the meat and prepares the surface for a light crust. Use your favorite rib rub. Spread the rub on the ribs generously. The amount that sticks is the amount you need so let the ribs decide how much rub they get. Sprinkle the rub over the entire surface of the ribs, back, and front, as well as the edges around the rack.
• Now it's time to turn your charcoal grill into a smoker. This is easily done with two disposable aluminum pans. These should be about half the size of your charcoal grill. One of these pans will act as a drip pan that helps hold the charcoal in place and keeps dripping away from the fire. The other pan will be filled with water to add moisture to your grill and to help regulate the temperature.
• Start with a clean charcoal grill. Remove the cooking grate and start the charcoal. We're using a charcoal chimney which will light the perfect amount of charcoal. You will need enough charcoal to cover half the coal grate, about three layers thick (that's three layers of charcoal).
• Once the charcoal is lit, place one of the aluminum pans on the coal grate and pour the charcoal on the other side. You might need to bend the pan a little to fit it properly.
• Now, it's time add the wood. The wood is important for creating the smoke. We suggest large wood chunks since it will take longer to burn and provide smoke as you need it. Use several chunks for a good smoke supply.
• Return the cooking grate and place the second aluminum pan on it, directly over the charcoal. Fill with as much water as it can hold. The goal is to keep the grill at a consistent and low temperature (around 250 F/120 C). The water will steam away slowly and you shouldn't need to add more water, but keep an eye on it.
• Now you have converted your grill into a smoker.
• With the grill set up for smoking, we can add the ribs. At most, you will probably be able to fit two racks of baby back ribs or one rack of spare ribs. You can buy a rib holder that props up the ribs so they stand on end so that you can fit more ribs at a time. Of course, this really depends on the size and type of charcoal grill you are using. What is important is that the ribs are not set on top of each other. It is important to expose as much of the surface of the rack to heat and smoke as possible.
• At this temperature, it is going to take about 3 to 4 hours to cook the ribs completely. We are looking for a final temperature around 180 to 185 F/80 to 85 C. This is the point of maximum tenderness before the meat starts falling off the bone. Remember that great ribs have bones in them and don't fall into a pile of meat when cooked. That whole "falling off the bone" thing was created by bad restaurants that boil ribs.
• Place the rack(s) of ribs on the cooking grate of the grill, rib side down, next to the water pan. No part of the ribs should be directly over the fire. We will turn the ribs in a little while to provide for even cooking.
• The amount of time that this process is going to take really depends on the charcoal grill you are using and the outside temperature. After about an hour check on the ribs. This is also a good time to make sure the grill has enough fuel and that the water pan still has enough water in it. Add some additional wood chunks to the fire. Rotate the ribs to help them cook evenly. The meat should still be soft and the surface browning.
• After about another hour wrap the ribs in a double layer of aluminum foil. This holds in moisture and brings the internal temperature up. When you pick up the ribs they should curve nicely, but not fold. Place the wrapped ribs back on the grill, checking the fire and the water pan. There is no need to add additional wood chunks at this time. The ribs have absorbed all the smoke they are going to get. Allow the ribs to continue cooking for another hour.
• Now we get to the final phase of our barbecue ribs on a charcoal grill. After about an hour, remove the foil and return to the grill for 30 minutes to an hour. This final turn on the grill is going to give the ribs a drier surface so that you get some texture out of the bite. What you want to look for is how well cooked the ribs are. For this, use a meat thermometer (look for a temperature around 180 to 190 F.). Unfortunately, with ribs, this can be a challenge. The bone will be a different temperature from the meat and to get an accurate read you will need to check the meat without getting the thermometer too close to the bone.
• Another way to check for doneness is to lift the ribs in the middle. If the ends droop loosely down from the middle the ribs are done. This is an old pitmaster trick and if you keep it in mind when cooking ribs, you will get the hang of it and be able to tell when ribs are done by using this technique.
• When the ribs are nearly done it is time to slather on the barbecue sauce (if you intend to sauce your ribs). This should be done in thin layers. By layering on the sauce, you get a sticky surface on the ribs and not a thick wet coating. Start by putting a layer on the ribs and turn them over and coat the other side. Close the lid on your grill for about five minutes and repeat. We generally do this about 5 times to give the ribs a thick coating.
• Carving ribs is best done with a long sharp knife and a pair of tongs. Place the rack of ribs on a large cutting board and set them on end, exposed bone end up. The trick is to slide the knife down, between the bones evenly. If you look at the rack from the bone side you should be able to see the path of the bone a little easier. By cutting straight down through the rack you can get a good, even cut and a uniform rib. Rib bones tend to turn a little more towards the small end, but with a little practice, you will get the hang of it.
• By the time the ribs are cut, they will be sufficiently rested for eating so this should be the last thing you do before serving the ribs.


Bruce's Mexican Chicken Soup

1 pound chicken breast fillets (4 fillets)
1 tablespoon olive oil
10 cups water
2 cups chicken stock
1/2 cup tomato sauce
1 potato, peeled & chopped
1 small onion, diced
1 cup frozen yellow corn
1/2 carrot, sliced
1 celery stalk, diced
1 cup canned diced tomatoes
1 15-ounce can red kidney beans, plus liquid
1/4 cup diced canned pimento
1 jalapeno, diced
1/4 cup chopped Italian parsley
1 clove garlic, minced
1 1/2 teaspoons chili powder
1 teaspoon cumin
1/4 teaspoon salt
dash cayenne pepper
dash basil
dash oregano

On the side
Sour cream
Pinch chopped Italian parsley

• SautÈ the chicken breasts in the olive oil in a large pot over medium/high heat. Cook the chicken on both sides until done -- about 7-10 minutes per side. Cool the chicken until it can be handled. Do not rinse the pot.

• Shred the chicken by hand into bite-sizes pieces and place the pieces back into the pot.

• Add the remaining ingredients to the pot and turn heat to high. Bring mixture to a boil, then reduce heat and simmer for 4-5 hours. Stir mixture often so that many of the chicken pieces shred into much smaller bits. Chili should reduce substantially to thicken and darken (less orange, more brown) when done.

• Combine some chopped Italian parsley with sour cream and serve it on the side for topping the chili, if desired. Makes 4-6 servings.

Bob's - Not Such a Shrimp Cocktail

1 tablespoon olive oil
1/2 cup Water
1/2 cup Vinegar
2 tsp Seafood seasoning
1 tsp Salt
1 Clove garlic, crushed
1 lb Cleaned shrimp
1/4 cup Ketchup
1/4 cup Heavy whipping cream
1/2 tsp Lemon juice
1 1/2 tbscup Horseradish
Prep


Combine water, vinegar, seafood seasoning, salt and garlic in a large saucepan, cover and cook over low heat for 10 minutes or until shrimp are pink and firm.

Drain and rinse in cold water.

To make sauce, combine ketchup, cream, horseradish and lemon juice; mix well. Arrange shrimp on bed of lettuce or ice.

Famous Anonymous Chili Burger

Chili...
1 pound ground beef (not lean)
1/4 cup flour plus 1 1/4 cups flour
1 1/3 cups beef broth
4 cups water
3 tablespoons chili powder
2 tablespoons grated (and then chopped) carrot
1 tablespoon white vinegar
2 teaspoons dried minced onion
2 teaspoons salt
1 teaspoon granulated sugar
1 teaspoon paprika
1/4 teaspoon garlic powder
Burger...
3 pounds ground beef
8 hamburger buns
16 slices Kraft cheddar cheese Singles
1/2 cup diced onion
1/4 cup yellow mustard
Prep...
Strain the fat out of the meat with popular and common kitchen gadgets


• Prepare the chili by first browning the meat in a large saucepan over medium heat. Crumble the meat as it browns. When the meat has been entirely cooked (7 to 10 minutes), pour the meat into a strainer over a large cup or saucepan. Let the fat drip out of the meat for about 5 minutes, then return the meat back to the first saucepan. Cover and set aside.

• With the fat from the meat, we will now make a roux - a French contribution to thicker sauces and gravies usually made with fat and flour. Heat the drippings in a saucepan over medium heat (you should have drained off around 1/2 cup of the stuff). When the fat is hot, add 1/4 cup flour to the pan and stir well. Reduce heat to medium low, and continue to heat the roux, stirring often, until it is a rich caramel color. This should take 10 to 15 minutes. Add the beef broth to the pan and stir. Remove from heat.

• Meanwhile, back at the other pan, add the water to the beef, then whisk in the remaining 1 1/4 cups flour. Add the roux/broth mixture and the other chili ingredients and whisk until blended. Make sure your grated carrot is chopped up to the size of rice before you add it.

• Crank the heat up to medium high. Stir often until you see bubbles forming on the surface of the chili. Turn the heat down to medium low, and continue to simmer for 15 to 20 minutes, or until thick. The chili should be calmly bubbling like lava as it simmers. When it's done cooking, take the chili off the heat, cover it, and let it sit for 30 minutes to an hour before using it on the burgers. It should thicken to a tasty brown paste as it sits.

• To make your hamburgers, you'll first divide 3 pounds of hamburger into 16 portions of 3 ounces each. Grill the burgers in a hot skillet or on an indoor griddle for 4 to 5 minutes per side or until done. Sprinkle some salt and pepper on each patty.

• Build the burgers by lightly toasting the faces of the hamburger buns. Turn them over into a hot skillet or a griddle on medium heat.

• Place one patty onto the bottom bun.

• Position two slices of cheese on the meat.

• Place another beef patty on the cheese.

• Spoon about 1/2 cup of chili onto the beef patty.

• Sprinkle about 1 tablespoon of diced onion onto the chili.

Makes 8 burgers ~ 6cups of chili

Dan "Ragnar" Eliseuson's Calico Viking Solar Hotdogs and Fries

Ya sure, u betcha, ven u get hungry, youst find a beach or if no beach in sight, ya don't worry nun.

Yust take a flat piece of metal, clean it off and then use a light coat of cooking oil (or fish) and en u poke a needle in the the tail of the dog, lay it on the flat, den you put a reflektor ober it so the sun shines purty and en den add de add thawed french fries.

Use a cooking thermometer when da dog is hot,and the fries sizzle u can eat!

It woks for fish too!
Cheers
Rangoon




Next

We're waiting for more....