October 7th and 12th
Change of Oct 5th to 12th had to be made because of Yom Kippur on the 5th
~ Homecoming Parade, Wednesday, October 12 ~
3:30 pm, traveling north on Palm Canyon
Parade theme is MARDIS GRAS--
If you wish to drive a classic car in he parade I have the form,
will need for you to private message me with your direct email
so I can send to you, you need to fill out then
email to Tyrus, teacher in charge of parade.
Staging area between Baristo and Ramon
Parade starting at Baristo and ending at Alejo
Post-parade VIP reception at Antigua Palm Springs
105 S. Palm Canyon, you are invited.
('Complimentary happy hour bites, cake')
~ Homecoming Football Game, Friday, October 7 ~
7pm opponent is La Quinta High School
Palm Springs High School Stadium
If you wish to meet at the game, do private message or email.
If we have several going I can make the effort to go early to save bench seats for us.
We can talk about going some place local after game to visit.

Maybe next year we can plan to walk, bicycle, create a float for our classmate group?!
Sixties: ALL alum years welcome...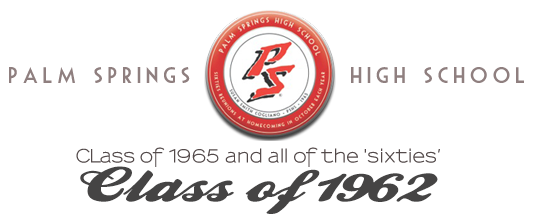 October 21st and 23rd
~ Meet up at Shakeys, Friday, October 21st, 5 pm ~
Remember those classic meals with friends and family at Shakeys
~ Reunion Picnic, Sunday, October 23, noon ~
Bring your own picnic items.
Park at back parking lot, entry off Via Miraleste by restroom.
Sixties: ALL alum years welcome...
Please RSVP to Susan if you plan to go to either event so we can look for you.


Kitty says Saturday night dinner is full now
---
A little stroll down memory lane.


Palm Springs High School Classes of the Sixties - Susan Smith-Cogliano, POB 2525, Palm Springs, California 92263